The Leisure Island Deck Tub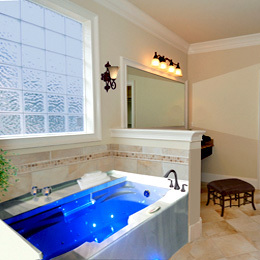 Imagine your own island… a place so quiet and refreshing where the gentle lapping of water and changing colors soothe your mind and refresh your body and soul..
Safety Bath Inc., Canadian manufacturer of walk in bathtubs and accessible bathtub products has recently released its newest product- the Leisure Island Deck Tub – a Whirlpool Chromatherapy Bathtub. The Leisure Island Deck Tub offers a unique warming area for towels or a warm place to sit before entering the bathtub. While the Leisure Island is not an accessible bathtub, it can be made into an accessible low profile bathtub with a door by inserting Safety Bath's Door Insert Kit into the tub wall at a later date. This feature makes the Leisure Island a perfect fit for fine retirement homes and luxurious senior facilities where changes in lifestyle may necessitate a walk in bathtub at some point in time. The Leisure Island Platinum Edition features a 16 jet lateral whirlpool massage system. A deluxe 4 light chromatherapy system with external lights can be set for a designated color or a sequence of seven colors, each bringing a sense of composure and equilibrium. The addition of gold plated fixtures enhances the feeling of absolute luxury.
The ultimate in relaxation and style, the Leisure Island Deck Tub, is a fine addition to any new home or bathroom renovation. For more information: visit http://www.leisureislandbath.com