Toronto High Efficiency Toilet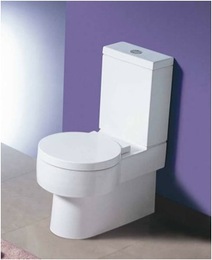 On the "saving" side of the water conservation argument, dual-flush toilets can be found, those anomalies most often found in European bathrooms, but becoming more common on this side of the Atlantic. Australian company Caroma (which sells its wares worldwide) has designed a modernist version of a high efficiency toilet, complete with two buttons for flushing, in the Brisbane 270 Round Front Plus.
This clean-lined amenity looks less like a toilet and more like an art accessory, giving you the perfect excuse to upgrade to both a sleeker design and a less wasteful lifestyle. Find more information at the company's website.