Merkley Outdoor Lighting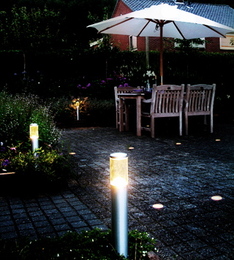 Merkley Supply now offers in-lite outdoor lighting products. These low-voltage lights bring gardens, patios and balconies to life after dark.
The in-lite system is simple, safe, and can be installed quickly. Merkley Supply carries all four varieties of in-lite lighting products:
Integrated Lighting – These light fittings can be integrated into wood, concrete and natural stone to sit flush with the ground.
Above-Ground Lighting – Solitary, above-ground light fixtures stand a few inches of feet above the ground and are housed in steel of stone pillars.
Wall-Mounted Lighting – These lights can be placed directly onto outer walls or fences.
Spot Lighting – Spot lighting lets you cast light on distinctive garden objects such as trees, shrubs or statues.
Light up your landscaping projects using in-lite's plug-and-play lighting systems.
Learn more on our website.