Flagstone Falls by Sunterra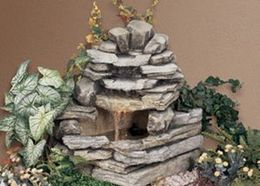 People have always been drawn towards the water, seeking out the cool refreshment of lakes and beaches whenever the weather shows even a hint of sunshine, and the health benefits of fountains are well documented. But since it's not always easy to get to the water, why not bring it right to you?
This Stonescape fountain from Sunterra is only one of the company's many natural-looking options for your lawn or backyard, constructed to complement and blend in with your landscaping. The continual flow of water through the stones and the shadowy play of the beams in the pool at the bottom (the model comes with a pump and an accent light) make it a centerpiece for any outdoor environment. Just picture the sound of flowing water while you're sitting outside enjoying the afternoon sun, and it'll be hard to resist the allure of this small oasis. Visit the company's website to discover all of their fountain options and find a dealer near you.